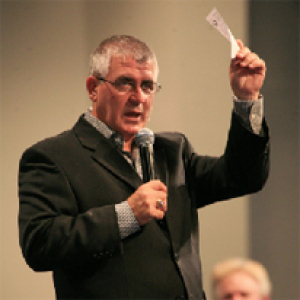 Benny Anglin
Biographie

de Benny Anglin

Pastor Benny Anglin graduated from RHEMA Bible Training Center in 1979. After graduation he accepted the pastorate of a small church in Goldonna, LA. Since that time he has served as pastor for three churches. Since 1995, Pastor Benny has been the senior pastor of New Covenant Fellowship. Pastor Benny and his wife Beverly have been married for 33 years and have three grown children (Christi, Nathan, and Laura) and four grandchildren. Along with pastoring the church, his current ministry includes a weekly television program and weekly podcasts.

Pastor Benny also ministers in various churches, church seminars, bible schools, and minister's conferences. He serves on the Board of Regents for Texas Bible Institute. He also is an area leader for Chariots of Light motorcycle ministry.

In 1999, Pastor Anglin received a visitation from the Lord regarding God's provision for the commission He places on our lives and ministries. Since that time he has ministered in many churches the practical and spiritual insights the Lord revealed to him at that time.

As a direct result of the teaching in this area, New Covenant Fellowship in three years built a new 18,000 square foot facility completely debt free. He also has received many testimonies from individuals about how God has greatly increased their own personal finances, enabling them to further the kingdom of God. One pastor commented that his churches finances had increased 25 percent after the seminar on God's Provision For Your Commission. The cornerstone foundation for the principles that Pastor Anglin teaches is in Matthew 6:33, "But seek ye first the kingdom of God, and His righteousness; and all these things shall be added unto you."
---
Nouveautés

de Benny Anglin